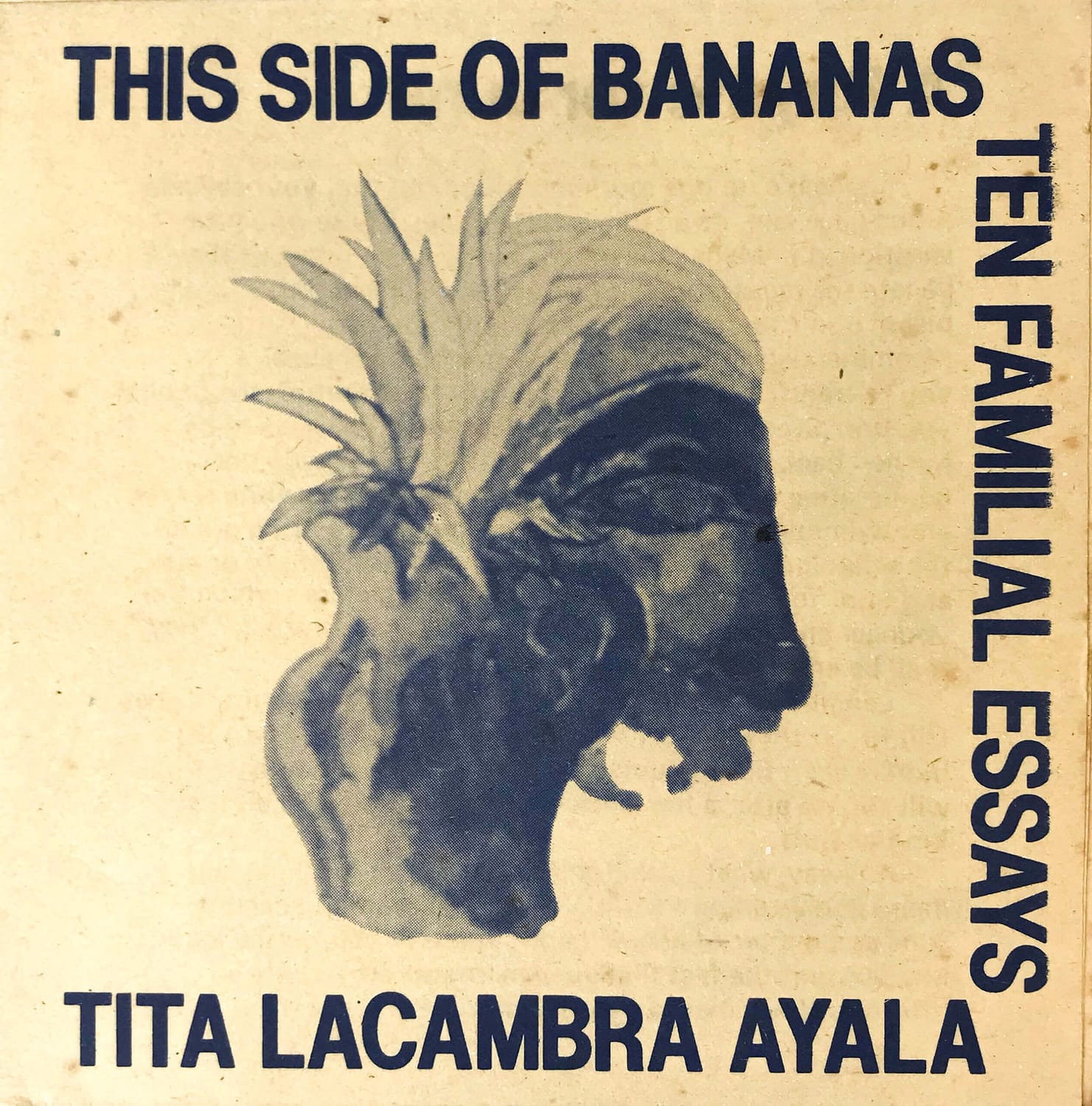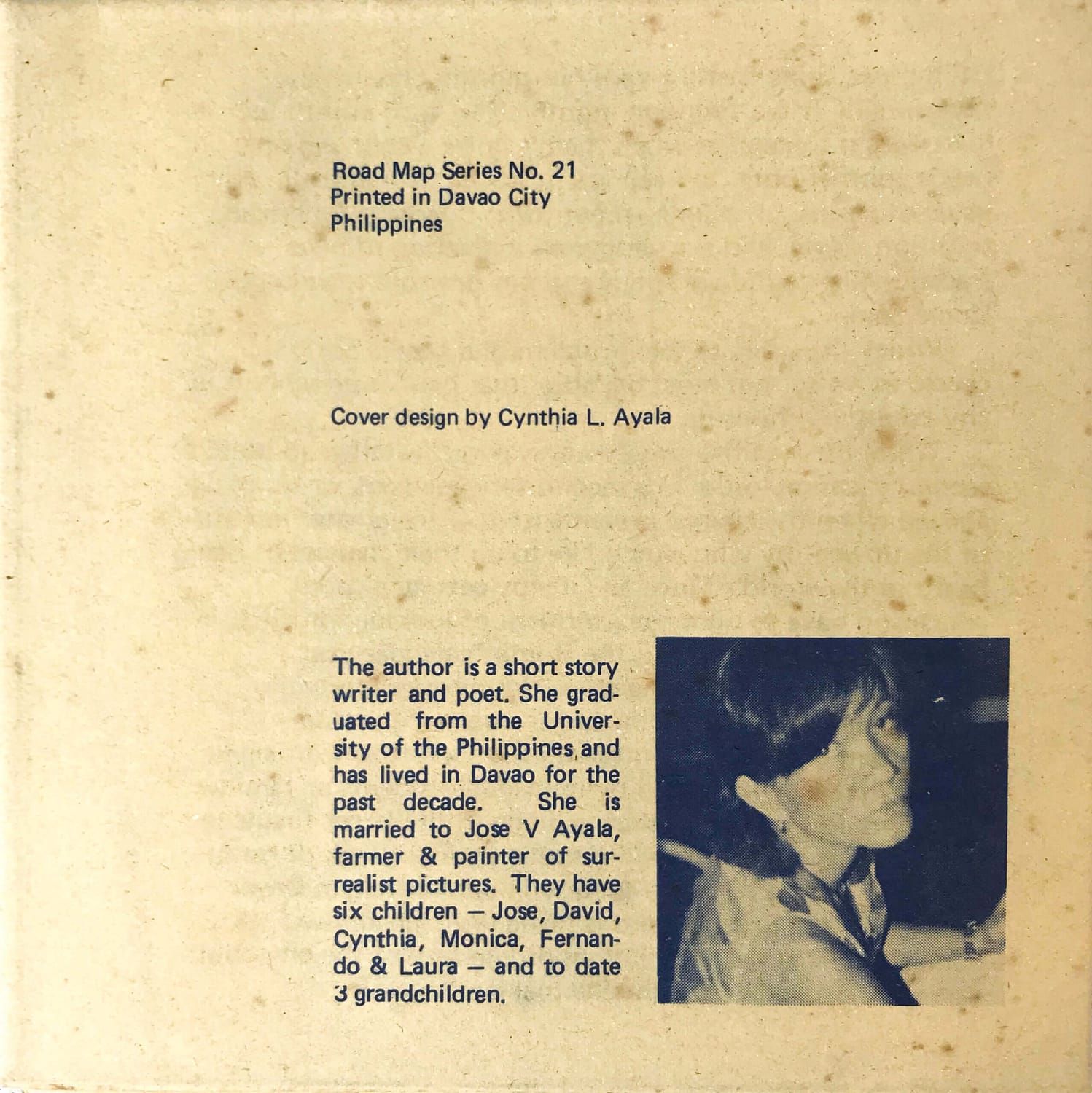 The author is a short story writer and poet. She graduated from the University of the Philippines and has lived in Davao for the past decade. She is married to Jose V. Ayala, farmer and painter of surrealist pictures. They have six children — Jose, David, Cynthia, Monica, Fernando & Laura — and to date 3 grandchildren.
Excerpt from This Side of Bananas: Banning the Bra
The young generation in this country has never been so lucky. Aside from being equipped these days with bottle sterilizers, canned milk, locally manufactured bottles bearing American brand names, ready-made baby furniture and other nursery accoutrements, their younger elders have the best foundation garments ranging from stretch panties and stretch bras for the growing breasts, to more sophisticated pantalettes and panty-girdles that shape down cellulite to glamorous proportions. 
Judging from national costumes, one would surmise that Japanese, Chinese, Indonesian and Indian women would have no use for brassieres and girdles unless for medicinal purposes, such as to apply poultice, or to keep a rheumatic organ in place. Their costumes, except for the slick Chinese cheongsam, eat up yards and yards of textile wrapped around with sashes and shirrs and pleats or draped over the shoulders or to nip an empire waistline, as in some Korean costumes. It is more liberated among the Asian women who wear bras and allied foundation garments. Matter of fact, the wearing of such foundation garments presume a form of women's lib. 
Lately, however there has been a turn-around, the real woman's libber doesn't wear the upper part of the foundational garment, making it easier for her to enlist sympathies with topless barroom dancers and other similarly employed women in the cause of female freedom. 
The rugged clothes that are being promoted for the college crowd in the form of denim pants and shorts, denim blazers and bush jackets have not seen a proportionate promotion of denim bras and denim panties, the denim bras would look quite classy peeping out of unbuttoned blazers in a demonstration or at a sports events, and would double up as non-cling swimming togs. Because of the rough sturdy cloth for these rugged wear, it is hardly advisable to go about without foundation garments as the inside of the denim, especially if one's suit is new, is liable to irritate tender young skin, promoting, on the side, perhaps, a high incidence of the symptoms of cancer. 
Our bunch of young, ambitious clothes designers and their bastardy have gotten around the issue well by prescribing tanktops and T-shirts, striped or plan, to wear under these ornery jackets. Parents like myself have found the fad of unisex clothes a double blessing, first the boys can wear the girl's togs and vice-versa; second, it's easy for a parent to pick up a jacket when rushing out (as long as it's standard family size) and have something stylish to throw around one's shoulders when the wind gets chilly. 
Of course once in a while one thinks of the snug feeling of rocking in a blanket tied to two posts as a child, rocked by a lola, maiden aunt or one's mother to the tune of pasion in Lent, or a sleepy lullabye instead of being joggled to sleep facedown in a slick playpen by a grouchy yaya to a disco beat. And sometimes one looks back nostalgically at all those starched thich white cotton or crinoline slips and petticoats that used to rustle when one moved, making one feel like a queen or a prima ballerina. But then, comfort and simplicity are not the things that count.