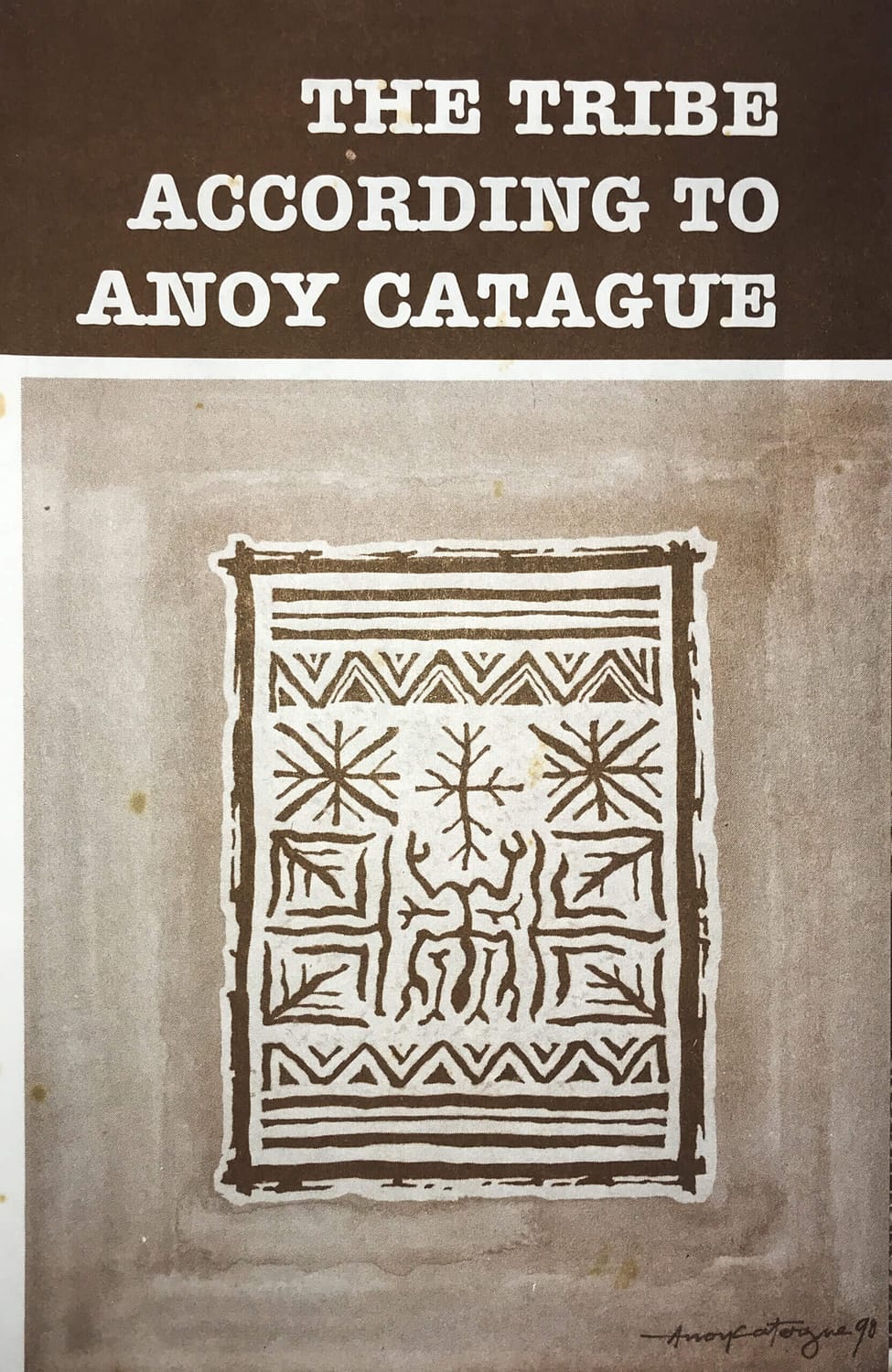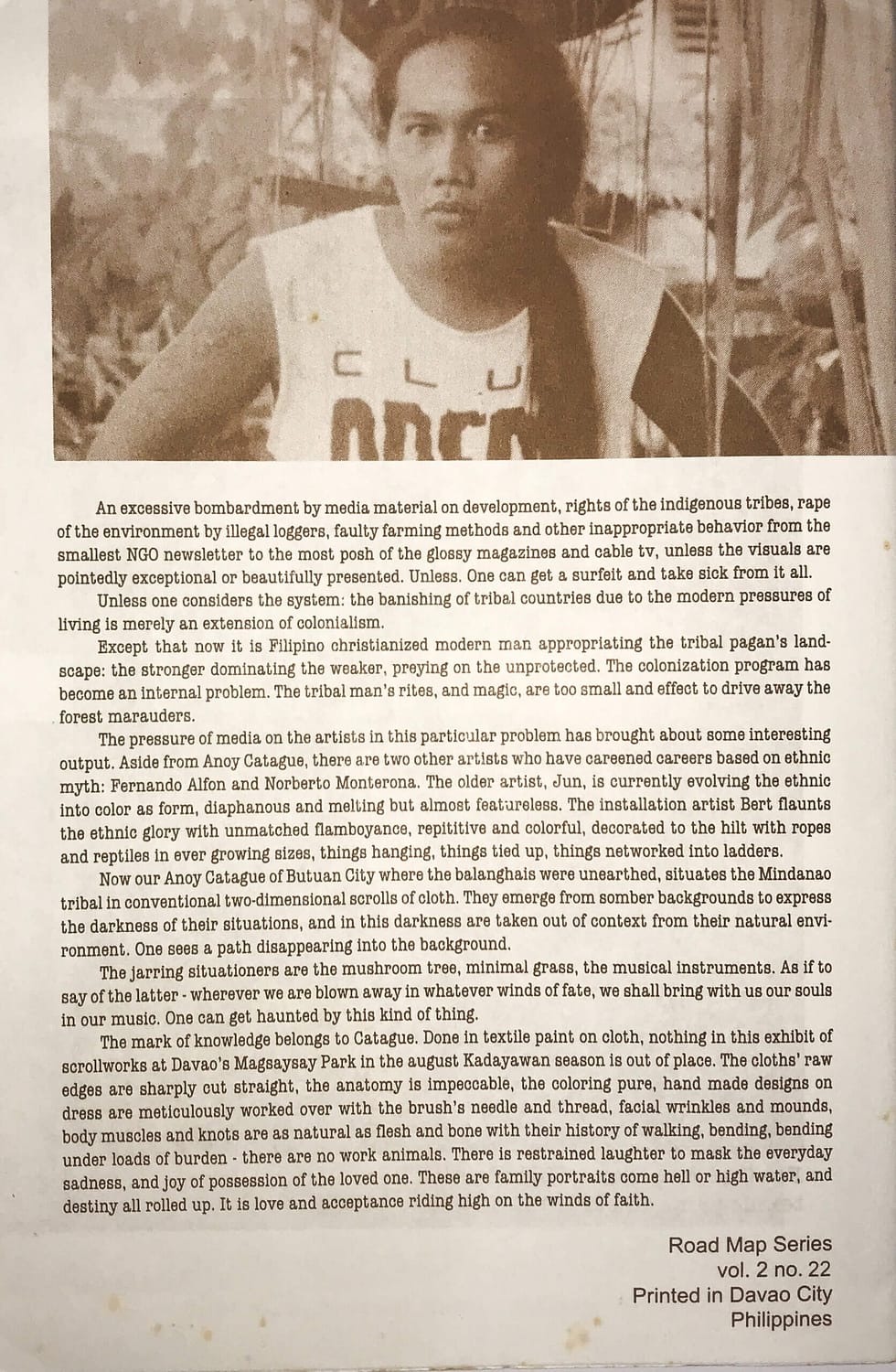 An excessive bombardment by media material on development, rights of the indigenous tribes, rape of the enivronment by illegal loggers, faulty farming methods and other inappropirate behavior from the smallest NGO newsletter to the most posh of the glossy magazines and cable TV, unless the visuals are pointedly exceptional or beautifully presented. Unless one can get surfeit and take sick from it all.
Unless one considers the system: the banishing of tribal countries due to the modern pressures of living is merely an extension of colonialism.
Except that now it is Filipino christianized modern man appropriating the tribal pagan's landscape: the stronger dominating the weaker, preying on the unprotected. The colonization program has become an internal problem. The tribal man's rites, and magic, are too small and effect to drive away the forest marauders.
The pressure of media on the artists in this particular problem has brought about some interesting output. Aside from Anoy Catague, there are two other artists who have careened careers based on ethnic myth: Fernando Alfon and Norberto Monterona. The older artist, Jun, is currently evolving the ethnic into color as form, diaphanous and melting but almost featureless. The installation artist Bert flaunts the ethnic glory with unmatched flamboyance, repetitive and colorful, decorated to the hilt with ropes and reptiles in ever growing size, things hanging, things tied up, things networked into ladders.
Now our Anoy Catague of Butuan City where the balanghais were unearthed, situates the Mindanao tribal in conventional two-dimensional scrolls of cloth. They emerge from somber backgrounds to express the darkness of their situations, and in this darkness are taken out of context from their natural environment. One sees a path disappearing into the background.
The jarring situationers are the mushroom tree, minimal grass, the musical instruments. As if to say of the latter – wherever we are blown away in whatever winds of fate, we shall bring with us our souls in our music. One can get haunted by this kind of thing.
The mark of knowledge belongs to Catague. Done in textile paint on cloth, nothing in this exhibit of scrollworks at Davao's Magsaysay Park in the August Kadayawan season is out of place. The cloths' raw edges are sharply out straight, the anatomy is impeccable, the coloring pure, hand made desings on dress are meticulously worked over with the brush's needle and thread, facial wrinkles and mounds, body muscles and knots are as natural as flesh and bone with their history of walking, bending, binding under loads of burden – there are no work animals. There is restrained laughter to mask the everyday sadness, and joy of possession of the loved one. These are family portraits come hell or high water, and destiny all rolled up. It is love and acceptance riding high on the wings of faith.
Road Map Series 
Vol. 2 No. 22
Printed in Davao City,
Mindanao, Philippines