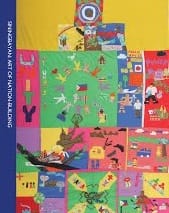 The Fieldbook, which is a Knowledge Product of the National Congress on Good Citizenship, features a capacity-building process for participative governance and integrity education. "Siningbayan" is a word coined by multi-awarded social artist Joey Ayala to indigenize "Social Artistry", a body of work attributed to anthropologist Jean Houston, and appropriated by the UNDP for decentralizing the MDGs. Social Artistry is defined by Tony Meloto as "art whose canvas is society", which is also the subtitle of his chapter in the book.
Siningbayan workshops were piloted in 2009 with various sectors and in various venues through a partnership between the United Nations Development Program, the Philippine Civil Service Commission and Bagong Lumad Artist Foundation Inc. The Siningbayan Field Book highlights a framework of three processes for engaging with people as a "Mandiriwa" (another word coined by Joey Ayala, to describe the Siningbayan workshop facilitator – wisdom worker as Artist, Researcher, Teacher, Culture-Builder): Contemplacy, Articulacy and Operacy. 
Ayala introduces each process, which is then discussed through various lenses in chapters, as follows:Contemplacy: Jose Abueva on Citizenship, Jo Atienza Salvana on Constitutional Values, Alex Brillantes on Governance, Tony Meloto on Overcoming Poverty, Teresita Baltazar on Overcoming Corruption, Felipe De Leon Jr on Culture and Mary Ann Fernandez-Mendoza on Social Artistry; Articulacy: Joey Ayala on Music, Alma Quinto on Visual Arts, Vim Nadera on Poetry, Steve Villaruz on Dance, Christine Bellen on Storytelling, Beng Cabangon for PETA on Theatre; Operacy: Mary Anne Fernandez Mendoza on HRD in Government, Pauline Bautista on the Civic Welfare Training Service thrust of the National Service Training Program, and Ambassador Tita de Villa on Voter Education. Dr. Dinah Nadera provides a practical guide to Evaluation.
Cover Art features the "Collaborative Tapestry on Integrity and Prosperity" created by the values formators who participated in the Visual Art workshops facilitated by Alma Quinto at the the Second National Congress on Good Citizenship in 2007. A Foreword is written by Br. Rolando Dizon, FSC, Chair of the National Congress on Good Citizenship. Project Director is Alex Brillantes, Co-Chair of the National Congress on Good Citizenship.